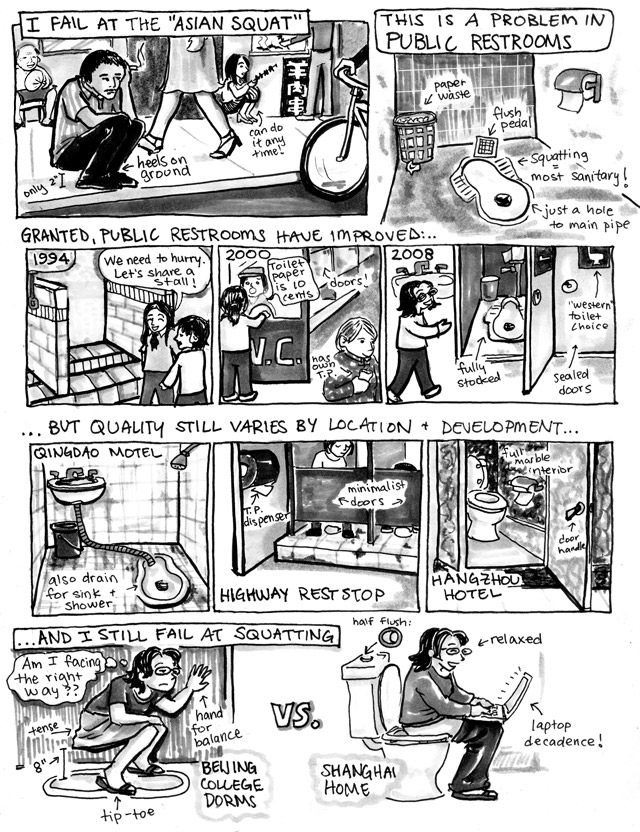 By
sushux
on February 28th, 2010
This one stewed in my head a long time, mostly because I couldn't figure out how to present toilets in the right way.
In this comic you get to see: 4th grade me (I'm the one with the short hair in the elementary school bathroom), 10th grade me (with the ponytail in the Forbidden City bathroom), and the current me in the Beijing Sanlitou movie theater bathroom).
Just to clarify: in my experience, most city home bathrooms are "western style" (or perhaps truer to the mark, "Japanese style"), but people still prefer squatting in public bathrooms. There was once when I was in line at the public bathroom in Beijing's Houhai area, and then I discovered that the "western" bathroom stall was empty — no one wanted to use it. So I was like, "score!"
What I am most happy about is the increasing prevalence of toilet paper in bathrooms.
Also: Instructions http://www.wikihow.com/Use-a-Squat-Toilet