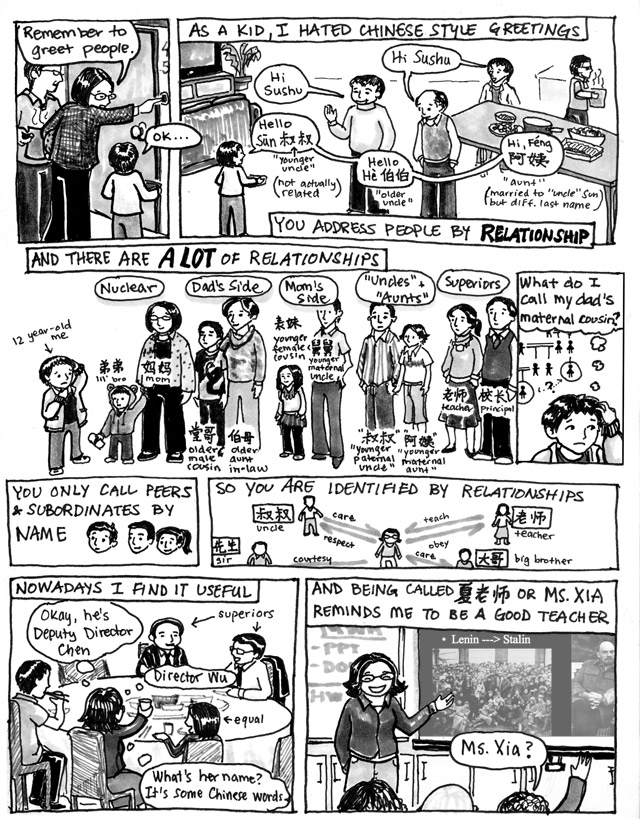 I struggled the most with the middle panel with lots of relationships. I'm not sure if it's clear, but those are in order from closest to farthest. What you see is a small sample of my various relations. I caught myself planning to draw the whole family tree, and stopped. I think what I have can be improved for clarity, but it serves for now. Jono says it's time for me to break out of the 1-page limit. What do you think?
Notes on relationship titles:
- There are 8 different relationship titles for "first cousin", and uncles/aunts-in-law also have separate relationship titles depending on who they're married to.
- These also extend to job titles. For example, taxi-drivers, cooks, and various craftsmen are 师傅. I don't remember the one for venders. There's also a whole structure of 书记 and 局长 type government titles, but those are super-confusing to me.
- Last time I was in Beijing, I discovered that 老师 (teacher) was being used to address administrative staff on college campuses, and I was pretty miffed — it felt like the title of "teacher" was being cheapened.
- The generational respect is pretty strong. Even now, I feel uncomfortable addressing friends' parents by first name, which makes me seem formal and aloof in America.
- Being able to claim a closer relationship is related to your "connections". For example, being able to call the Deputy Director of something "Big bro" is indicative of a closer relationship, and hence, more mutual benefits because family are supposed to be there for each other. Even if it's "family".