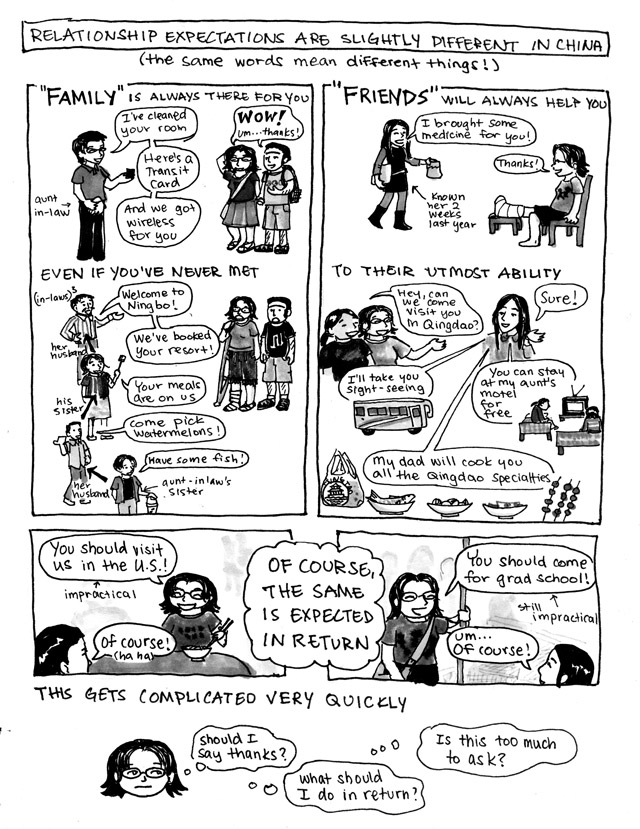 By
sushux
on November 14th, 2010
Sometimes I would say something casual like, "I'm wondering if you know where I can ship a package", and suddenly people are treating it as Serious Business, and Something They Should Do As Friend/Family, and they'd whisk the package from my hands and fuss over it and then it disappears and then I find out they had to leave for work a half hour early to mail my package, and that they spent 300rmb of their own money sending it. And all I had wanted was to find out where the post office is.
On the other hand, sometimes it's nice to know that family is just there for you in really heartwarming ways, and that you don't always have to say thank you, because those are things that people just do out of a sense of duty and relationship. The Chinese teacher at work once said to me, "Why do I have to thank the students for doing their work? That's what they're supposed to do, just as I'm supposed to work hard to be a good teacher." In the same way, family and friends are just supposed to be.
In other news, I'm planning to finish up China Comics by the end of the year. I have another one to post tomorrow that is a follow-up to this one, and then 3 more that I've planned. If I do one a week for the next month, I should have them finished in time.
There are many more things to tell about China, but I feel like 24 pages is a good place to pause, and if I were to come back to it later, it might be in a different format. This has turned into more of a Chinese culture primer than storybook, so if I were to come back to telling stories about China, I'd like them to be actual stories.
Part of the reason for the upcoming break is that I feel like growing as an artist — leave my one-page edu-comics comfort zone and actually try my hand at telling stories, but more on that later.