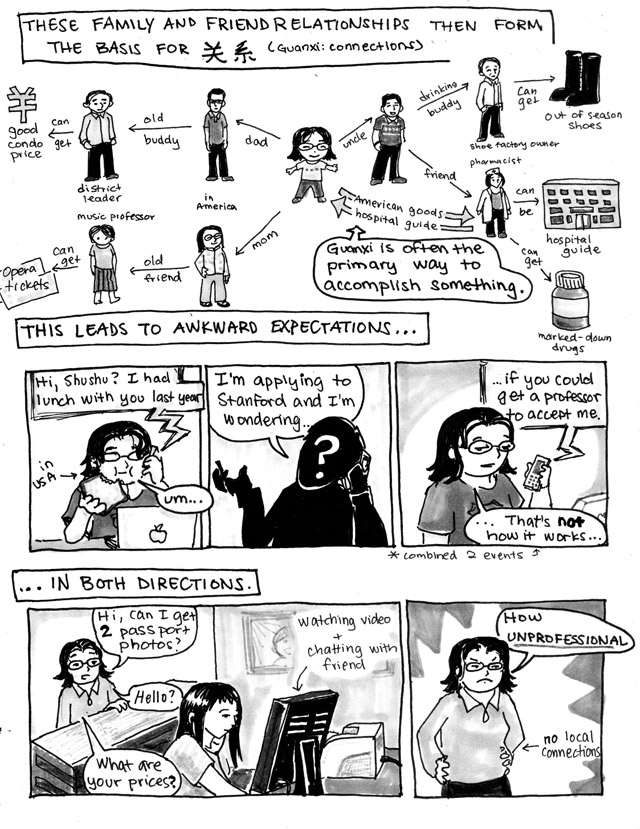 By
sushux
on November 15th, 2010
As the asterisk says on the comic, the first example story is a composite. There *is* a guy who has emailed and called me to ask about colleges and stuff, who I don't remember at all. I think he was one of 7 or 8 people that I had dinner with, once. I don't know how he got my email. He spelled my name wrong and also called me "sis". Um, yeah. The last panel, however, comes from a few years ago, when there was a guy who asked my mom if she could talk to someone to get his cousin into a U.S. school. It's one of those things like, "Well, if America worked that way, I'd be happy to help, but it doesn't, so no." I kind of feel bad in these circumstances, because if the roles were reversed, the other side would definitely help. It's just that connections occupy about 20% of "getting things done" here, whereas it's about 80% there.
The second story, however, is 100% true. The girl eventually stopped watching her Chinese soap to quote me a price and take a picture for me. Then she printed it at the wrong size. When I told her I needed it passport sized, she didn't believe me, and so she went on chat and asked a friend, who told her the size. She had to confirm 3 times with her friend before she adjusted the size for me. Then she only printed half of what I ordered because it would have cost her too much to print the right amount. I used to be frustrated by the callousness of cashiers, waitresses, etc. Then I realized that it was because I didn't have any connection to them, so really, why should they be nice?
On the other hand, I've experienced great service when going somewhere local with my uncle — people know him, and so give him good deals and give us good service. I always feel like not enough of China is professional, which is perhaps because friendships, family, and connections matter so much more. I'm not sure if it's a good thing or a bad thing — am I willing to give up the close camaraderie and sketchiness in exchange for measurable and monetized professional standards? Perhaps it's not an either-or. Taxi drivers are very professional, especially in Beijing, but at the same time they keep the feeling of camaraderie through banter.