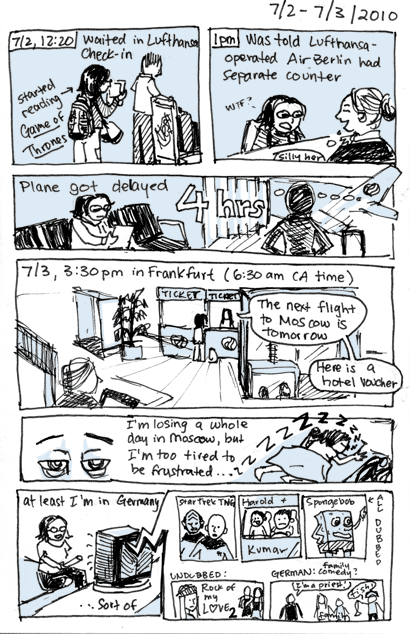 The flight from San Francisco was delayed 4 hours because the plane that left Dusseldorf was delayed. The reason it was delayed was that they encountered a technical issue shortly after leaving Dusseldorf, had to re-land, and fix. Although the delay has been frustrating for everyone involved — the pilot, the passengers on 2 planes, all the missed connections and the ticketing agents who had to deal with grouchy people and pay the cost of hotel, etc — I'm still glad they made sure the plane was safe instead of having people die. Sure, I miss a day of Moscow, but at least I'm not dead. Germany is also not a bad place to be stuck — sure, I have no Euros, so I'm kinda stuck at the airport hotel, operating within the confines of the hotel vouchers, but most people speak English very well, and everything is organized, courteous, and functional. I turned on the TV and flipped through a lot of dubbed American shows, and ended up on some German family comedy, perhaps like 7th Heaven. I wish I understood German humor — serious one moment, silly antics the next. The show seemed to be about a priest and his family, and has dramatic moments around buying fishing bait in a shop, and not being able to sleep at night because the neighbors were having loud sex.
Dusseldorf airport is really weird. The airport lobby was like a real lobby — with clusters of armchairs and cafes and stores. It is spacious and airy, more like a train station than an airport. The dominant airline here is Air Berlin. Many screens tell you which counters to check in. I like how fluid the space is. From there I go a few short paces to customs, or "PassKontroll", which is a different world altogether. The space is winding and cramped, with many cordoned off areas. The area seems more like a "behind-the-scenes" warehouse area, with unadorned walls that have parts unpainted. There is no air conditioning. From their I enter the gate area, and once again everything is air-conditioned, bright and airy. I felt like I was in a shopping mall — stores and shops line the hallway, duty-free perfume assaulting my senses — with the gates nowhere to be found. The gates turned out to be tucked behind the stores, as if up a side alley. At the gate, everything is once again coarse and functional, two gates in one small area, with a door beyond leading to stairs down to the tarmac, and with just enough seating for the early-arrivers like me. No outlets to be found, and on one column, a clear un-painted outline of something that used to be there but was ripped out.
There are no drinking fountains here — maybe it's not required by law? Travels abroad always makes me think about federal regulations.