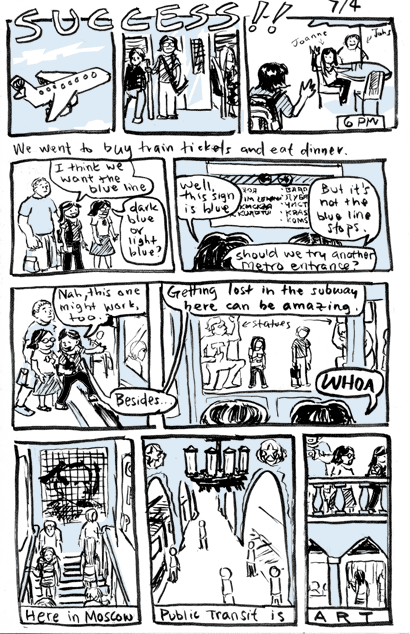 Met up with the Lemur and CS Bear downstairs from our apartment at 6pm Moscow time. Apparently the street downstairs from the apartment is a pedestrian way filled with cafes. We're also about 5 minutes walking distance from a Kremlin and a 24 hour supermarket that turned out last night to not be 24-hour. I got a nice cold soup at the cafe, and then after briefly unpacking at the apartment, we headed out to buy train tickets and then find a restaurant that Joanne saw on the guidebook as having Central Asian food and on the river.
Train tickets were relatively painless, despite the fact that no one spoke English. CS Bear had a whole dictionary in his shorts pocket, so we looked up the word for "tomorrow", and the rest worked out. What was more complicated was figuring out the subway. It took us a while to realize that standard subway signs are in blue, and are not related to the color of the metro line, despite there being a light blue and a dark blue metro line. Also, exits are not always entrances. So we totally took the wrong line, but it was all right, because the subway stops are breathtaking — wrought-iron chandeliers, arches with filigrees, mosaics of Lenin leading the Revolution, etc. I didn't bring my camera last night, but what I loved were the small details. Even the lamps on the escalator were beautiful and stylistically in tune with the rest of the station. The metro trains come once every 3 minutes or so, so we never had to wait long, and they went super-fast, so going on the wrong line wasn't too bad. Tickets were about 25py, which is a little less than $1. The trains themselves aren't high-tech or jazzed up with lots of ads or monitors, but they were super-functional and clean. They were also designed for tall people — not many low hand-holds.
The restaurant we went to was called "1001 Nights", and it was actually on the river, but tied to the river's edge — it bobbed whenever a riverboat went by. I got horse meat with noodles. The horsemeat was very tender, and its juices drenched the large flat noodles under it, making it very tasty indeed. I also got a salad. Salads here are mostly composed of 3 or more of the following: cucumber, tomato, radishes, eggs, meat, potato. I sense that this isn't a very leaf-based society. Every half hour or so, they would crank up the music and a bellydancer would make her way around the tables.
After the restaurant, we walked the 3 miles home along the river, encountering an amusement park with a mock Space Shuttle, and a large statue in the river that seems to be Peter the Great standing on a ship that's on a wave that has lots of little ships in it. It was bizarrely awesome. (Our first view was head-on, like this, so it was hard to figure out what it actually was as we slowly walked towards it. (Here's some better views) Next to the statue, on what the map said was a chocolate museum, was a roof-top rave.
We stopped by McDonald's for ice creams and water at midnight, and made it home shortly thereafter. It didn't feel that late, thought, since the sun had set at around 11pm. I woke up at 4:40am and the sun was up again. Yay Northern Hemisphere in the summer!