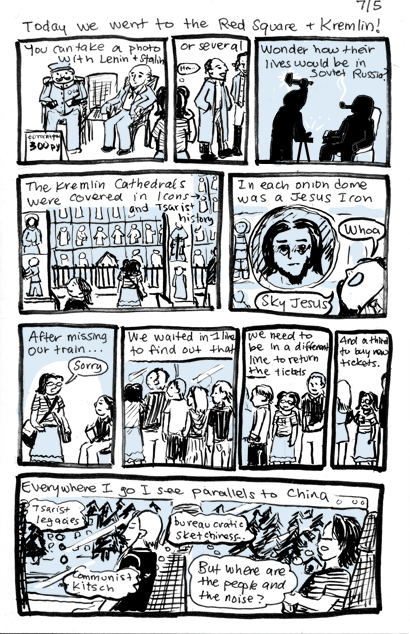 So it got dark at midnight, and then got light at 4am in the morning. I woke up and finished my journal-comic of the previous day, and posted. Then I went back to sleep and woke up again at 11am. The Lemur made yummy breakfast omelettes, and then we headed out to Red Square and the Kremlin.
When walking through the Red Square, I couldn't help comparing it to Tiananmen. It's longer but narrower, and of course the buildings that flanks it are European styled. The Lenin mausoleum was closed, but I was surprised at how unremarkable it seemed from the outside. Sure, it's red and black marble, and with austere corners, but it blended into the background of the red walls and buildings. Unlike the Mao-soleum, there aren't triumphant statues and youths standing guard. Maybe it's because Russia is no longer Communist, and so has a different relationship to Lenin. For example, outside the Red Square, next to all the street vendors selling matroyshka dolls and communist kitsch, there were many "personalities" that you could take a picture with. Sure, there's Homer Simpson and Spiderman, but there's also Lenin and Stalin and Tolstoy. Several Lenins, in fact. One Lenin-Stalin combo actually staged themselves in the setup of that famous photograph, except now you can sit between them. When I look around at the people here, I can't help but wonder about the generation gap and the difference in life experience and outlook of the last 20 years. The people dressed up as Lenin and Stalin probably remember a very different portrayal of Lenin and Stalin in their youths.
The Kremlin was pretty cool. Of course, we couldn't visit most of it, lots of police making sure we only keep to the tourist section, which is essentially Cathedral Square and a park. The churches were pretty amazing. I'd never been in an Orthodox cathedral before, so I was completely blown away by the floor-to-ceiling covering of various icons and religious and historical paintings. The icons stare at you eerily, and I can totally believe that there's a spirit behind it. I also finally figured out the whole iconostasis thing — it had made no sense when I read about it. I especially loved all of the Jesus icons — each of them had the same markings of hair and facial style to show that it's Jesus, but each of them slightly different — gaunt Jesus, haggard Jesus, sad Jesus, fierce Jesus. Up on the ceiling inside each onion dome was also a Jesus icon, which we dubbed Sky Jesus. The plaques that were in English mentioned all sorts of artists and styles that I knew nothing about. I'm sure that's how western tourists feel like in Dunhuang. We also discovered that the Russian tour guides leading Chinese tour groups spoke very beautiful Chinese. Made me wonder what sort of foreign language requirements and options are available in their public school.
After the Kremlin I went to fetch my Trans-Siberian tickets, but ended up causing us to miss the train to St. Petersburg, so we had to try to switch train tickets to a later train. That was quite an ordeal. We ended up standing in 3 lines — one to find out which window to stand at, one to return the previous tickets, and one to buy new tickets. It took an hour and a half, and I think they might have accidentally only returned me the money for 1 of the tickets, but by the end of that hour and a half, I didn't want to wait in another 1/2 hour line. Maybe I'll do it on my way back.
And now I'm in St Petersburg!