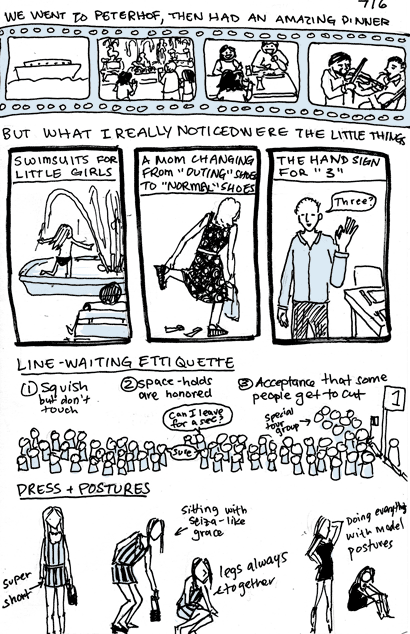 So we're in St. Petersburg. St. Petersburg is very different from Moscow. Whereas Moscow has these very stern and solemn buildings and squares, St. Petersburg felt like a Scandinavian city, and reminded me a lot of Copenhagen — wide canals, tree-lined boulevards, neo-classic and rococo facades, countless stands selling hotdog rolls. There seems to be more artists here, they're more relaxed and I've seen many just relaxing on the grass in a park.
Yesterday we took the hydrofoil to Peterhof, which is a Versailles-like palace that Peter the Great built away from St. Petersburg. It was very pretty. Aside from the Versailles-like fountain stuff, Peter also built some smaller retreats closer to the seaside in the Dutch style. This is also when I discovered that the Gulf of Finland is (a) very shallow, and (b) very polluted and brown.

Peterhof was mostly populated by Russian visitors. Like YuanMingYuan, lots of locals go there to relax at the beach, walk in the park, eat ice cream, and frolic in the fountains. For locals, entrance fee is only 140 py, which is like 5 dollars. In addition to the stately marble fountains from Tsar times, there were also fun soviet fountains like fake trees and flowers that squirt water. It was a great place for relaxing and people-watching.
After getting back from Peterhof, we wandered the streets until we found the restaurant we wanted but they asked us to come back in 30 minutes or so (of course, my question about putting ourselves on a list was meeted with a shrug). There happened to be a cute little park across the street with a statue of Pushkin, so we bought ice cream and relaxed in the park.
The dinner was super-yummy. I got a salad that had slivers of tongue, yellow bell pepper, cucumber, and cheese. Smothered in mayo and dill, of course. I also had a meat and veggie soup with sour cream and dill. (I've had very good soups in Russia). Finally, I had meat dumplings that looked reminescent of wontons, served in a little urn, and smothered in sour cream and dill. CS Bear had some really good Beef Stroganoff, with a delicious light sauce. What made the dinner perfect, however, was the music. A very passionate violinist and a very laid-back guitarist.
Today we're going on a formal walking tour, so I'll talk more about city monuments tomorrow.