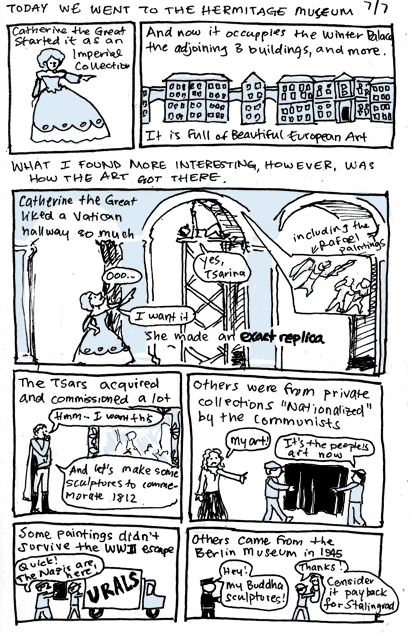 Just a quick update today because I hurt my lower back yesterday and spent the online time looking that up instead.
Instead of the walking tour, we did a boat tour. Man, so many pretty buildings and parks, mostly built by Tsars and Tsarinas who "felt like it" or to commemorate a special occasion, or for their lover, etc. I'm in awe of the amount of resources and manpower at their command — These buildings are all decorated with statues and friezes and other crazy stuff.
Then we spent 7 hours in the Hermitage, which is a giant palace with lots of European artwork. Impressionist paintings always look better close-up. Also caught some nice Reubens and Rembrants. What was most amazing, however, was this exact duplicate of Rafael's Loggias from the Vatican. (http://www.hermitagemuseum.org/html_En/05/hm5_5.html). At around hour 5 was when my back started feeling crappy.
Then we went to dinner at this little Russian restaurant. The meat dumplings here were even better than the last place. I got chicken breast stuffed with egg, and a cauliflower soup. Soups remain delicious. There was some sort of party there, where people were getting up to make speeches, and then singing songs while playing the guitar or accordion. A dude also made bird chirping noises with 2 rubber bands. It was very amazing, we felt like we were guests at someone's house. A man walked around trying to toast everyone, and when we left, an old man kissed my hand. It makes me really want to learn Russian and come back to Russia properly– The food is yummy, the people are nice, and the art is awesome.