We stayed at two resorts during our trip. First we were at Bomani Bungalows, which is about 10km outside of Bagamoyo, about 2 hours north of Dar Es Salaam. It is a beach resort built by a Norwegian woman. She visited Tanzania and really liked it, so she bought some beach property and built the bungalows. The bungalows are in a large walled complex that is sort of appended to one end of the village of Klingamlini. Next to the resort is a private villa that was built by some other Norwegian – they are only there for a few weeks every year but they hire people to maintain the villa the rest of the time. It is very visually jarring to have this large estate jutting out of one corner of a pretty run-of-the mill village, but the villagers have mostly adapted. Bomani is a bit on the sketchy side – it is essentially run by Nicky and 2 restaurant staff. It took us 2 days to figure out how to get reliable hot water in the shower, and the beach is shared by the village, so there are plenty of fishing boats around. I liked how Bomani allowed us to interact with the village, though – they offered a village walk (where Nicky took us around the village and pointed out things of interest), and also "making food with the locals", where they invite some local matrons to make food in a traditional house inside the resort, and also seaweed farming, where we got to talk to the chairman of the seaweed farming group and try our hand at collecting seaweed. Nicky taught us some Swahili, and made sure we got practice. There was a village wedding the night we arrived, and if it didn't start at midnight and go until 6am, we could have attended.
On the other hand, L'Oasis resort in Zanzibar is much more of a standard resort – with swimming pools that overlook the ocean (it still doesn't make sense to me), private beach, etc. It is next to the village of Kizimkazi, but you wouldn't know it by being in the resort – there seems to be a complete segregation between the two, although I'm sure the hotel staff live in the village. We also had lunch at Saadani Safari Lodge, which has a maze of boardwalks to show you just the beach view and isolate you from the rest of Saadani park. What surprised me in all of these resorts was not only how easy it was to spend a week there without leaving the resort, but also how many people choose to do that. The restaurant menu is carefully European generic – pastas, steak, fried fish, and some curry thrown in. We had to work hard to find Tanzanian staples like ugali and chapatti. At Bomani, we met a nice Croatian couple who were there for 9 days and only left the resort twice. We overheard a Norwegian man asking for "chicken masala without spices" for lunch and "bacon and omelette" for breakfast. I…. don't understand that sort of travel. Why spend all the money and time to go halfway across the world just to get a tan on a beach? Even if you're Norwegian you can do that much closer than Tanzania – Turkey, maybe?
Here are pictures of Bomani and L'Oasis:
Bomani: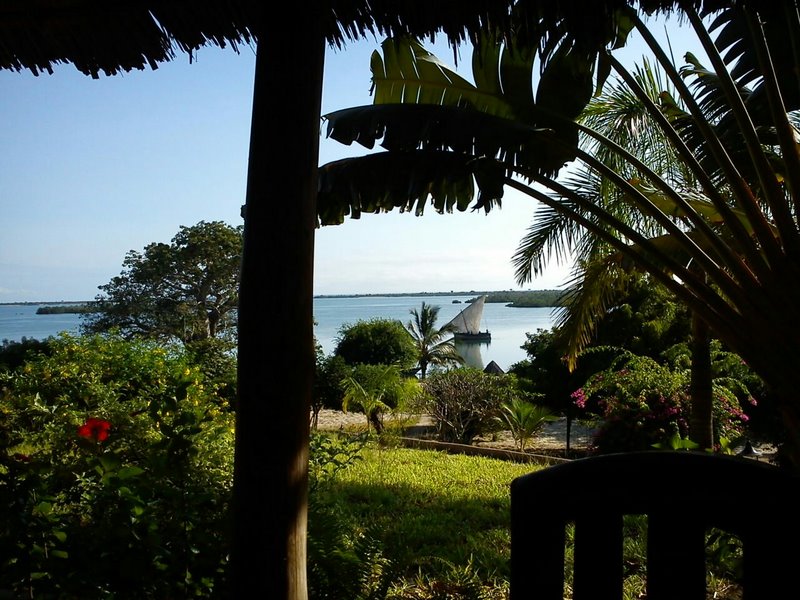 L'Oasis: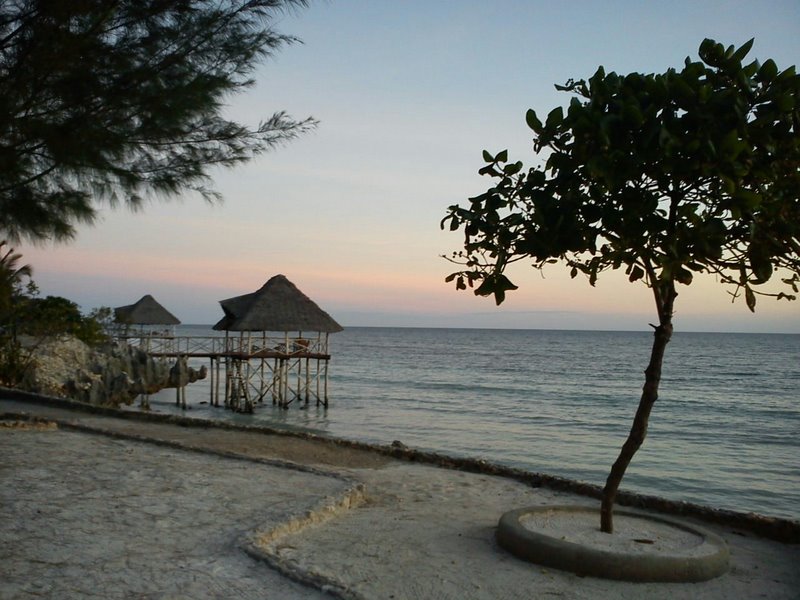 So, the village next to Bomani – I think it's a pretty standard village, given the other villages that we passed through. The ones near Saadani had more brick, and the ones in Zanzibar seemed richer – more brick/concrete houses and fewer mud houses. But anyway, the village: It is about 80% muslim, and in addition to the government-sponsored western clinic, the school, there is also a mosque and a madrasa. The madrasa had evening classes that taught the Qur'an, and the mosque didn't have a minaret, but it did have a loudspeaker pole.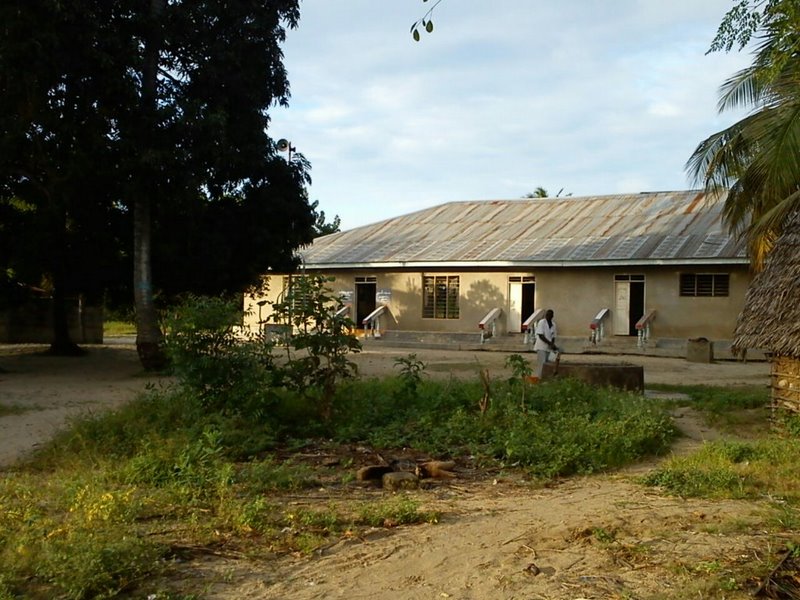 Most people in the village lived in mud houses like this: (sorry I don't have a better photo – I lost my camera en route to Tanzania and so had to resort to the cell phone camera)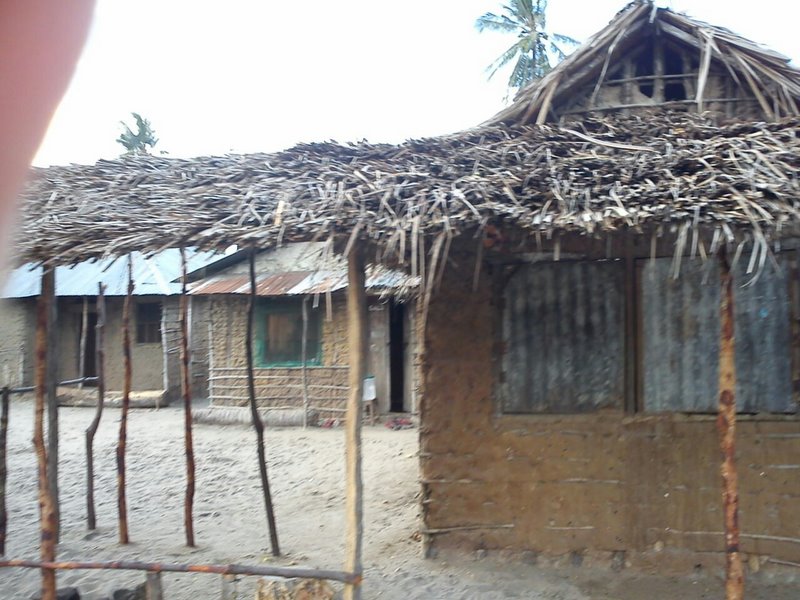 It is a framework of wooden poles lashed together, and fine mud is filled into the spaces. I asked where they got the mud, since most of the area had sand. Nicky said that it's from termite mounds. I'm a bit dubious, but it is rather good mud. The roof is made of palm leaves. It only takes about a week to build, and if well-kept, the mud only needs to be changed every 10 years or so. There is no electricity in these houses – running an electric wire can be a fire hazard given the palm leaf roof. So if you want electricity, you need at least a tin roof, although it seems most people opt to build a brick or concrete house. That is far more expensive, though, so there are many brick houses sitting around half-built, like this one: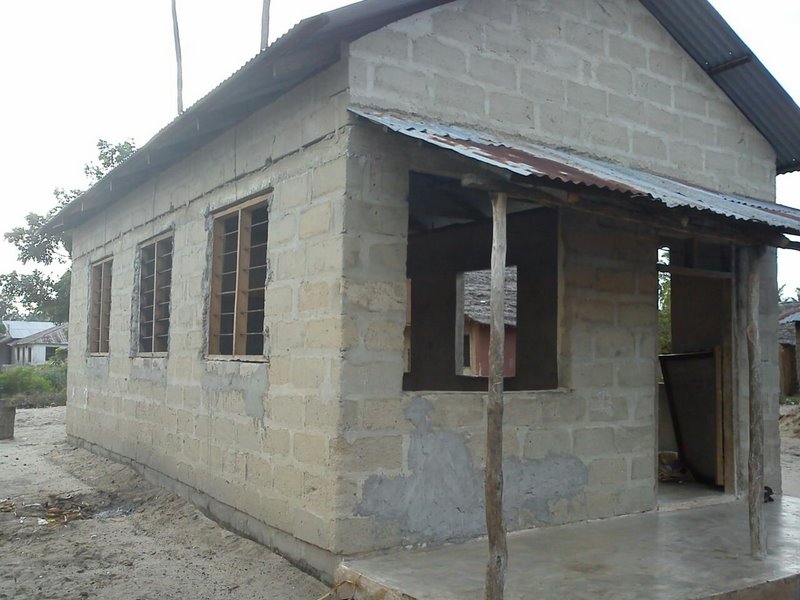 We visited Hausa's concrete house, and although he had electricity, they still mostly used natural light through the windows, so even though it was the afternoon, the house was still very dark. I think people are just used to using natural light. Many people cook outside, or spend their daylight hours lounging or working outside. Cooking for many villagers is done with a small portable charcoal stove. The amount of charcoal needed is about 20kg per month, which, according to Mr. Abbas, costs about 20k shillings (roughly $13). Here are some of the women cooking from our "make local food" activity: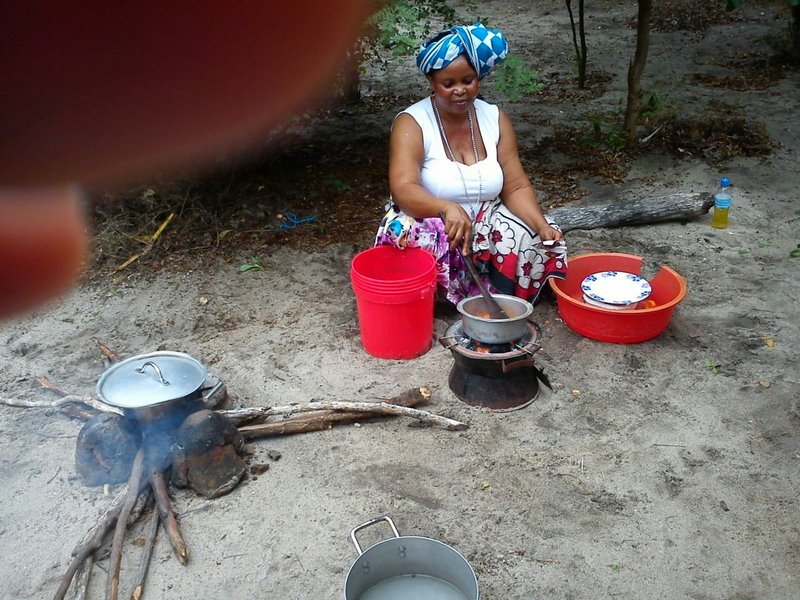 We made chapatti, which is kind of like inferior 葱油饼 (chinese scallion pancake) because it didn't have scallions or salt in it. We also made maandazi, which are like superior doughnuts. Fish is mostly fried with a tomato and carrot sauce. We also grated coconuts and made coconut milk that was then added to both rice and cassava. (For once, cassava didn't taste like dehydration!) The red bucket next to the woman is a bucket of water. Most houses don't have running water, so I often saw people getting water in buckets from the various spigots strewn around the village. I'm very glad they have potable water! At Bomani the shower water was distinctly salty, and everyone drank bottled water.
One thing that impressed me about the village is that it was its own microcosm. There were 3 "cinemas" – mud huts where someone charges young boys a few cents to watch some random movie on a loud tv. There was a tavern, a pharmacy, and about 10 shops selling everything from clothes to household goods to groceries. Perhaps as a jab at Bomani, some houses were painted with labels that said "Sheraton Hotel" "Royal Hotel", etc. Most of the trees in the village are useful trees – either palm or coconut or papaya or mango. Here and there a chicken would roam down the street, pecking at various objects of interest, and a goat would be tied to a bush and grazing on some grass.
Here is the village school. (notice the world map painted on the wall)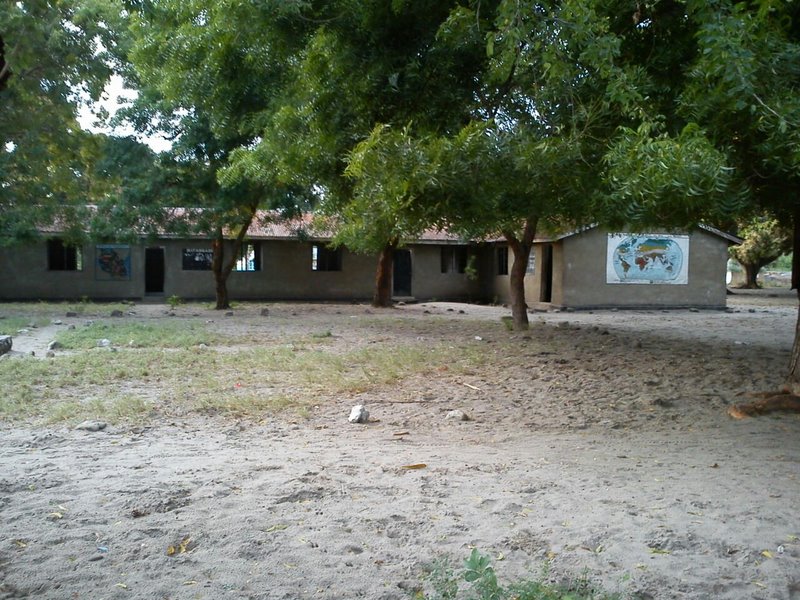 And an interior shot of a 1st grade classroom: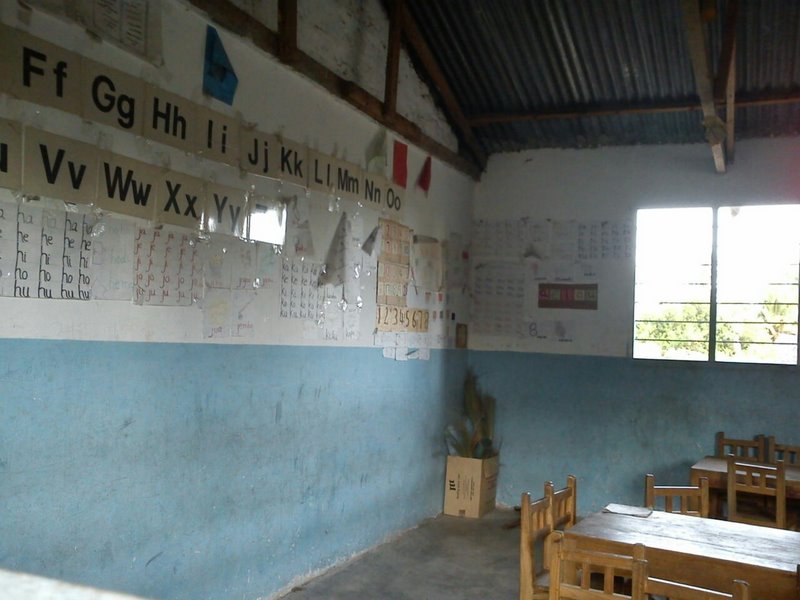 And did I mention there's a village rock band?