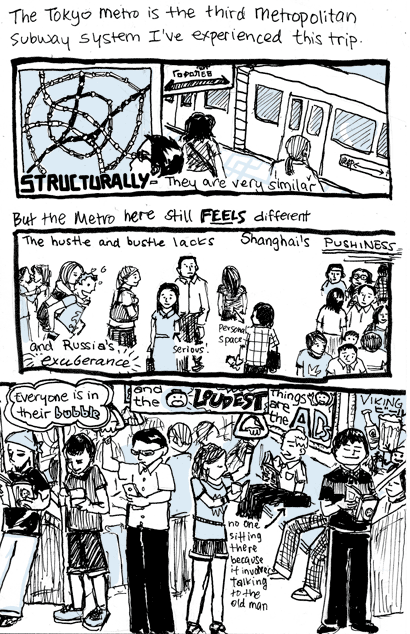 So we got into Tokyo very late Saturday night, due to a mysterious 3 hour delay by Air China. So late, in fact, that the cell phone place in Narita was closed and our sketchy guest house contact couldn'tmake it out to check us in, so instead we went out of the Ikebukuro north exit and walked around until we found a hotel, and checked in. Turned out it was a love hotel. They charged us extra for checking in before the overnight stay time, but didn't explain. But that's okay because we were tired and we were experiencing a love hotel. We picked the room from a panel of pictures. The room had a karaoke machine and a dedicated softcore porn channel and perhaps a jacuzzi. It was very posh! Apparently it was also one of the more expensive love hotels in the area. This area is on our walk from the guest house to Ikebukuro station, and it's chock full of love hotels. There's one that's Panda themed, another that is Safari themed, and another that is Ganesha-themed. Some of them have very cheap overnight stays, like 4000 yen (about $50 by current exchange rate). I can totally see the couple's way of living in Tokyo on the cheap as: check luggage in coin lockers during the day ($5), sleep at love hotel at night.
As for us, we are staying at a Guest House about 15 minute walk from Ikebukuro station, in Ikebukuro Honmachi 1 chome. It is a 5 minute walk from Kita-Ikebukuro, which isn't on the standard Tokyo metro map because it is not JR and not Tokyo Metro. It is instead on a private "Tobu Tojo" line. Even though this station is just one short stop north of Ikebukuro, it is very much a residential district, with small 2 story houses and quiet narrow streets. Our neighborhood shops are mostly clustered around the Kita-Ikebukuro stop, and consist of: a convenient store, a bento shop, a sushi shop, a soba and unagi shop, a miscellaneous goods shop, a raw meat shop, 2 tobacco shops, and 2 Chinese food/ramen shops. There's also a little map shop on a random street, and lots of parking lots, presumably for people who drive their car in and switch to the train at the Ikebukuro station. Our room has only a single twin bed in it, and a small desk, but the month rent is pretty reasonable (about 90,000, all told), so in the end it's worth it.
These days Jono has been going to work at the Mozilla Japan office. I would stay at home looking up information about Nagasaki or Tokyo, then meet him for lunch by his office. Then I would go visit a museum or something, and then we'd meet for dinner and some hangings out.
Monday I got a GRUTT pass and visited the Ancient Orient Museum and the Planetarium in Sunshine City. At the Planetarium, I learned that planets beyond Saturn aren't worth mentioning or displaying, and that the Weaver Girl is apparently a princess.
Tuesday I went to Ueno Park and visited the awesome and cute Shitamachi Museum where I played lots of old timey kids games, and fished a balloon out of water! And then in the evening we went to Akihabara and got some RPG books for Ewen. The RPG shop had EVERYTHING from old school D&D to Japanese RPGs to various board games, and the shop attendants knew whwere the most obscure things were. I picked up a martial arts role-playing game book. Then we went to Tokyo Tower, which was all right.
Tonight we wandered around Yoyogi Park (the Meiji Jingu was closed), and now we're at a manga kissa. This one, in fact. The manga kissa is pretty awesome. We sit in this little cubicle, which is about 300 yen per hour. There is internet, tv channels, and a Playstation 2 insided the cubicle. Outside are shelves and shelves of manga and magazines and also a small DVD collection. There are several vending machines of free drinks, as well as fresh fruit juice and soft-serve ice cream. They offer free blankets and stuff if you want to stay the night. There is also a vending machine for yakisoba and takoyaki. It's pretty awesome. A 10 hour overnight stay (check-in starting 9pm) is only 1900 yen ($22), which would be the single-person, non-love-hotel way of surviving Tokyo on the cheap.
On Friday we're heading to Nagasaki! And next weekend we're hitting 3 summer festivals in Tohoku. Should be exciting stuff.